Chiapas
You can easily drive a private vehicle from Mexico's northern border with Texas to its southern border with Guatemala in three days. We took more than 10, meandering along a less than straight line to see sights and rendezvous with friends.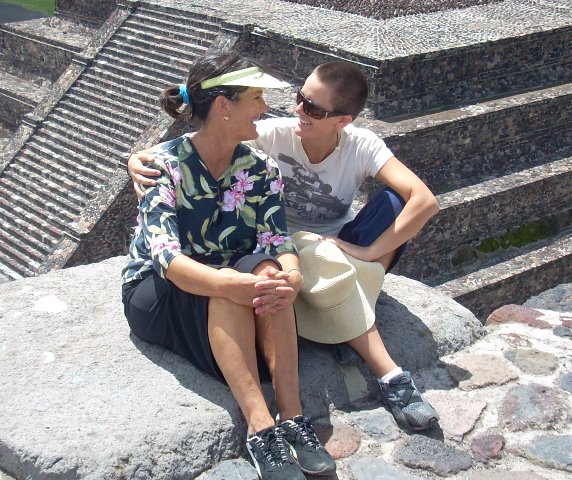 Mexico has the greatest number of World Heritage Sites in the Western Hemisphere. Even though we saw only two--Mexico City's famous Socalo and the magnificent ruins of Teotihuacan—we needed extra time to do so.

I should mention that our rule of thumb was to be off the road every day by sundown, when magnificent sights disappear in the gloom and driving hazards proliferate. I would recommend that any gringo venturing across Mexico in a private automobile observe this rule.

While we're at it, here's another travel tip. If given the option, always take one of Mexico's excellent private toll roads. Some can be a little pricey, depending on how long they have been in service, but these thoroughfares will always get you where you want to go in considerably less time.

One caution however. Always look both ways when changing lanes on private toll roads. Friendly as they are, Mexicans do not always obey posted speed limits.

Several days spent in Mexico City added to our commute across the country, as well. A local church hosted us in a comfortable downtown hotel, giving us time to explore a tiny sampling of the plazas, parks, museums, monuments and markets in this amazing metropolis.

Greater Mexico City's population of 22 million places it number five among the world's largest urban centers and in continuous competition with Sao Paulo, Brazil, for title of the largest in the Americas. Both are ranked ahead of New York and Los Angeles, the two biggest metro areas in U.S.

Once you head south from Mexico City and drop off the central highlands, the weather grows increasingly warmer and the vegetation more lush. When you reach Chiapas, the most southern of the United States of Mexico, you realize you are most certainly in the tropics.


Before you cross into Guatemala you must pass through the Chiapas Highlands. Pine forested hills that arise from torrid jungles to altitudes exceeding 9,000 feet, the Highlands remind the traveler of the Smoky Mountains in some places, the Ozarks in others. But the tile-roofed farmhouses and tiny plots of corn, beans and coffee squeezed together across the landscape reminds one that this is still Mexico.

I had looked forward to introducing Barbara, Ben and Molly to the Chiapas Highlands. This was the part of the country I had most often visited as a news correspondent reporting on abuses of religious liberty. Chiapas is home to the country's second largest population of native Mexicans. And as happens with indigenous people groups across the globe, they have suffered more than their share of abuse.

The town of San Cristobal de las Casas, the state's first capital until supplanted by Tuxtla Gutierrez, is still considered the cultural capital of Chiapas. Its narrow streets are lined with quaint shops and homes, and lead to pleasant plazas and charming colonial churches.


Outdoor markets are resplendent with colorful clothing, blankets and ponchos sewn and sold by native artisans. Rustic cafes abound that brew locally grown coffee and sell freshly roasted beans. My favorite brand? Café David, natch.


By far the largest municipality in the Highlands, San Cristobal is surrounded by hundreds of small villages where Tzotil- and Tzeltal-speaking farmers practice a way of life practically uninterrupted for millennia. Closer in, the town is ringed by makeshift suburbs, refugee settlements, in fact, for evangelical Christians. San Cristobal de las Casas' suburbs are stark witness to some of the most violent and relentless abuse of religious rights in the Americas.

When Spanish colonials introduced European political order and the Roman Catholic faith to Mexico in the 16th century, restless tribes in the Chiapas highlands rebelled, fighting several indecisive wars with Mexico City. Caciques (community chiefs) were determined to preserve both their local political power and ancient Mayan religion.

When the last war with the federal government ended in a stalemate in the late 1900s, Chiapas caciques were allowed to do just that. In exchange for delivering votes to the ruling political party in national elections, the caciques were granted total autonomy to rule local townships.

Unfortunately, the cozy political relationship did little to raise the quality of life for native Mexicans in Chiapas. Illiteracy is well above the national average and household income well below the poverty line.

Caciques have adamantly clung to ancient Mayan religious practices, worshipping the sun and earth, and practicing animal sacrifice. These customs eventually fused with Catholic dogma to produce a Christo-pagan rite known today as Traditionalist Indian Catholicism.

San Juan Chamula, the second largest town in the Chiapas highlands, lies six miles from San Cristobal de las Casas. It is both the caciques' political headquarters and the primary shrine of Traditionalist Indian Catholicism.

I have visited the town several times, but only once ventured inside the Traditionalist temple of San Juan Chamula. Heavy darkness immediately enveloped me upon entering, even though hundreds of candles burned on the altars. Stern statues of unnamed saints lined the smoky walls. I stepped over piles of pine branches, wild grasses and cut flowers, and took note of small animals and chickens awaiting ritual slaughter. The sensation was not one that lifted my spirit heavenward.


In 1920, evangelical Christianity was first introduced to the Chiapas Highlands by Presbyterian missionaries José and Luz Coffin. They found native Mexican farmers eager to receive the gospel. Within five years, the Coffins had planted three churches, organized six primary schools and opened a Red Cross office. They needed help.

John and Mabel Kemper from the Reformed Church of America responded to their plea. John bought the first automobile available in Tuxtla Gutierrez and drove it to San Cristobal de las Casas when a new road opened to the Highlands. The new faith began to spread even more rapidly through the small villages and tile-roofed farmhouses.

Serious conflict with Traditionalist Indian Catholics flared up almost immediately. Caciques realized, and rightly so, that Bible-based Christianity was a serious threat to their political and spiritual monopoly. They responded with violent persecution that would last for more than six decades and produce Mexico's largest population of religious refugees.

By the 1990s, caciques had driven nearly 40 thousand Tzotzil and Tzeltal farmers off their ancestral lands because of their refusal to renounce their Christian faith. Most took up residence in the makeshift suburbs on the outskirts of San Cristobal de las Casas, scratching out a living as street vendors, day laborers or domestic servants.

Salvador Lopez is one of them. His story, though extraordinary, is not atypical of his neighbors who decided to follow Jesus.

Salvador recalls the early morning in August 1976 when a drunken mob surrounded his family's house in Toltzeman. "Get ready," they shouted, "we're taking you to San Juan Chamula by order of the caciques."

His parents told the 19 year-old to take with him his most prized possession, a guitar. They knew the mob would not let the family return to retrieve belongings. "You play so well," they said. "It would be a shame to leave it behind."

The Lopezes were among 35 Christian families rounded up that morning. When the assembly arrived at San Juan Chamula, caciques told them that they could never return to their homes and farms. If they tried, they would be beaten, jailed, or perhaps killed.

One of the caciques spotted Salvador's guitar and snatched it from his hands. "This yours?" he asked mockingly. Then he smashed the instrument to pieces on the street. Literally with just the clothes on their backs, the refugees made their way to San Cristobal de las Casas.

Salvador began to search house to house for work to support his wife Veronica and the couple's new baby. It was slow going. He could not speak Spanish and knew only how to farm corn and beans. Because of their decision to follow Jesus, Salvador and Veronica faced years of abject poverty. They eventually settled in Nueva Esperanza, "New Hope" in English, a neighborhood established especially for Christian refugees.

The couple's hardships were light compared to some. In July 1981, six men abducted Miguel Gomez Cashlan, the founder of Nueva Esperanza. Angered by his compassionate support of fellow Christians and incessant gospel preaching, the band gouged out Cashlan's eyes, cut out his tongue and scalped him before hanging him by the neck. Only one of the assassins was ever brought to trial. He spent eight years in jail for the grisly murder.

In November 1997, assassins using high-powered rifles ambushed and killed religious liberty activists Salvador Collazo and Marcelino Perez. A coroner reported 16 bullet wounds in Collazo's body. He left behind a young widow and four small daughters. Although witnesses could identify the murderers and gave their names to police, the investigation into the murders was delayed for months and ended indecisively.

The Constitution of Mexico declares that "every person is free to profess the religious beliefs that please him or her." This article evidently does not apply to Christians in the Chiapas Highlands. Whenever it suits their purposes, caciques disregard the constitution and break the law with impunity.

Yet despite exile, poverty, wrongful imprisonment and death, Native Americans in Chiapas have embraced the gospel of Jesus in record numbers. A survey of non-Catholic Christians in Mexico shows just how remarkable their commitment to Jesus has been. By the decade of the 1990s, evangelical Christians were roughly 11 percent of the general population of Mexico. But in Chiapas, a state plagued by the most relentless and violent persecution in the Americas, evangelicals were 38 percent of the population.


Salvador and Veronica Lopez have been part of that growth. For 10 years after their expulsion from Toltzeman, Salvador supported his family working construction, and dedicated his free time to itinerant preaching. Eventually he left the construction trade and assumed leadership of The Divine Savior Presbyterian Church in Nueva Esperanza. His congregation grew to over 1000 members and planted five other churches among exiled Christians in other towns.

As I mentioned, Salvador's story is extraordinary but not atypical. The Presbyterian Church in Chiapas grew from zero to over 85 thousand members in its first 40 years. At this writing, Chiapas Presbyterians comprise 800 thousand of the estimated two million Jesus followers in the state. The movement started by the Coffins and the Kempers is so strong, in fact, that foreign workers are no longer necessary. The last Reformed Church of America missionaries withdrew from Chiapas in 2015.

The ancient church father Tertullian observed that the blood of martyrs is the seed of the church. My journalistic career reporting on the persecuted church has consistently reinforced that observation. Nearly everywhere in the world that Jesus followers are threatened, beaten, jailed or assassinated for their faith, the church grows unchecked.

At first glance, this seems a puzzling outcome. But when you think about it, isn't this exactly the outcome we should expect from the One who laid down his life for his friends?


Next time: Volcanoes