Honduras in a hurry
Although Honduras is the second largest country in Central America, we spent the least amount of time crossing its territory than of any of the 12 nations on our Epic itinerary. Our aged Camry made it from border to border in a mere two and a half hours. This was on purpose.


We wanted to get through Honduras ASAP. This was partly on account of gun violence. Hondurans own a lot of firearms and too often use them to settle disputes. We had heard verifiable accounts of drivers shooting it out with one another following traffic accidents. We did not want to get caught in the crossfire.

We also knew of travelers waylaid by armed assailants intent on hijacking their automobiles. One friend managed to speed away from one such encounter, but lost an eye in the process.

Another deterrent to a long visit was the national police's reputation for exacting hefty payments from foreign motorists for traffic violations, real or contrived. I admit that I did not verify whether or not the reputation was warranted. The probability of it being so was reason enough.

The final argument for a swift crossing was the state of Honduran politics at the time. Two months before our arrival, a coup d'état had ousted leftist President Manuel Zelaya. The prior year Zelaya had joined the ALBA alliance, a group of anti-Yankee-Imperialist states that included Cuba, Venezuela and Nicaragua. When Zelaya proposed alterations to Honduras's constitution, he was promptly ousted by conservatives who sensed he was trying to perpetuate his regime indefinitely as had, well, the presidents of Cuba, Venezuela and Nicaragua.

We had no strong opinion on the country's politics, and still don't. Nevertheless, we knew that civic unrest translates into protests, general strikes and road blocks. We did not want to get caught in the crossfire.

We could scoot across this sizeable country in a couple of hours because the Pan-American Highway crosses Honduras at its narrowest point. The north coast stretches for 400 miles along the Caribbean Sea, but from there the country's borders taper down like the sides of a triangle to a tiny stretch of Pacific Ocean at the Gulf of Fonseca. Our route skirted the Gulf in a direct line between El Salvador and Nicaragua.

Please do not conclude that our hasty passage suggests that Honduras holds no allure for the traveler. One can find many good reasons to spend extended time here. For example, Honduras shares, with Mexico, Guatemala and Belize, the world's second largest coral system. More than half of the 600 mile-long Mesoamerican Barrier Reef lies off the Caribbean shore of Honduras, attracting divers from around the world.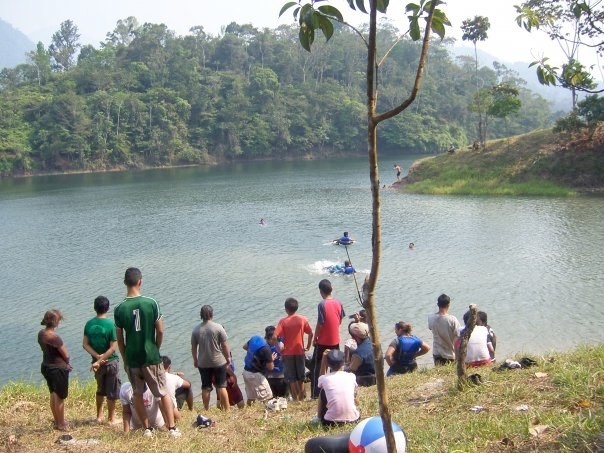 Near its western border with Guatemala sits the ruins of the Mayan city of Copan. A certified archeological wonder of the world, Copan is still rendering secrets of ancient America to historians and anthropologists.

And finally there are the several tracts of virgin jungle that beckon erstwhile eco-tourists. The largest of these, the Platano River Biosphere, covers a whopping 7 percent of Honduras's total territory.

In case you are traveling to Honduras by private auto, I should mention that the first 50 feet of the trip took us twice as long to negotiate as the entire distance across the country. This was due to a four-hour procedure we endured to get our aged Camry across the border from El Salvador to Honduras.

Yes, four hours. It went like this.

We arrived at the customs house to find no Honduran officer on duty. He strolled in 20 minutes later for his shift, which had started 40 minutes earlier. Go figure.

The task of examining and stamping my customs papers apparently exhausted him because he disappeared midway through to take a coffee break. He returned a half hour later just as his young female assistant reported for work. They greeted one another with a long and passionate kiss while I waited before the officer's desk. For several minutes, the couple was oblivious to both me and the clock.

The clock showed that an hour had passed since I first stood before the officer and no noticeable progress had been made on my paperwork. The officer told me that I should go to another office, get a paper and bring it back to him. He would stamp that paper so that I could take it to one of the several banking kiosks that surrounded the customs parking lot and pay the duty on our car.

I did this, or at least attempted to, but then discovered that none of the kiosk windows were open. I returned to the customs house and shared this piece of news with the official. He said, well of course, the banks are closed because today is a holiday in Honduras.


I did not ask him the obvious question, which was of course, "Why in the heck did you send me to pay my fees if you knew the banks were closed?" That, I am certain, would have dragged out the process yet further.

Instead, I gritted my teeth and murmured, "So, what shall I do now, sir?"

He suggested that I had two options. One was to wait until the banks opened the next day. Right. "Or you can leave your paperwork with me with money for the fees, plus a modest commission, and I will take care of it first thing tomorrow."

That is how, at the very outset of my hurried crossing of Honduras, I was taken for a ride.

Please understand, not all Hondurans are out to dupe the stranger and take his money. As in most nations of the world, the vast majority are honest, hard-working people. Nevertheless, there are a few bad apples among them. Just as the adage predicts, a few can spoil the whole bunch.

This may partly explain why Honduras suffers from horrendous social inequality and economic underdevelopment. According to government stats, two out of three Hondurans live below the poverty line. One in five survives on less than $2 a day. Two hundred rural Hondurans leave their home communities every day in search of a better life. They seldom find it. The communities they leave behind typically suffer more social decline and poverty after their departure, and become resigned to a future marked by scarcity, violence and depression.

In 1989, a college professor from Florida and former Peace Corps volunteer named Charlie Smith decided to do something to reverse the rural exodus. His vision began to take shape in a "model village" he built in a secluded valley in the Lake Yojoa region. There, Smith began to conduct research and teach seminars.

His experiments and their practical application focused on improving agricultural methods, upgrading community infrastructure, delivering adequate health care, developing markets for local goods and, most basic of all, teaching the Bible and encouraging Hondurans to become serious followers of Jesus.

Smith's vision mobilized local churches to serve the poor with Bible-based solutions to their material needs. Theologians today refer to this as a "holistic" proclamation of the gospel. The idea has been around for some time, actually. Legend has it that St. Francis of Assisi, who died in 1226, was asked by his followers how they were supposed to carry on his work. "Go preach the gospel," he replied. "If you have to, use words."

Smith called his vision "Heart to Honduras." The organization soon began attracting volunteer teams of engineers, contractors, doctors, nurses, homemakers, and college and high school students to Honduras for one- to three-week stints to learn about community-based development and do what they could to help.

From the get-go, Smith insisted that his coworkers see Hondurans as capable, competent friends. He believed that every community, no matter how poor, possessed the resources necessary to improve quality of life. His aim was to help rural families develop "adequate and sustainable income" that could keep them together, on their farms. This, in turn, would reduce flight to large cities and foreign countries.


On its website, Heart to Honduras expresses the organization's vision in these terms.

"We see young people with a future."

"We see heroes who are writing beautiful stories of belonging, hope, dignity, and endless possibility."

Smith understood that this sort of transformation takes time. Changes in the way people think, work and organize their affairs do not happen overnight, even with the light of the gospel showing the way. It was going to cost Smith a lot of time--a lifetime, perhaps--to see his vision through. So he built living quarters at the model village to spend as much time as possible in Honduras.

Sadly, time ran out for him before he saw his vision grow. Smith contracted pulmonary fibrosis and died in 1997, only eight years after founding Heart to Honduras. He was 59.

Someone has said that there are two kinds of people who leave their mark on the world, heroes and hero makers. Charlie was a remarkable example of the second kind. He managed to instill his vision in coworkers who have carried on the work in remarkable fashion. Today Heart to Honduras is not only going strong, but expanding its work with innovative ideas and immensely useful projects.

Many of the engineers and college students and doctors and nurses who contribute their time and money to rural Honduras have likely never heard of Charlie Smith. His name rarely comes up anymore in conversations in the model village he built. Many thousands of rural Hondurans who are living Charlie's vision of community life have no idea to whom they owe the privilege.

But I don't think he minds. Hero makers, it turns out, are more interested in making a difference than in making a name.

Charlie Smith is buried on a mountain overlooking that secluded valley in the Lake Yojoa region. As the old song says, he left his heart in Honduras.

It's obvious that he was in no hurry to leave.



Next time: Nicaragua