Amazonia
There are three places in South America that are definitely worth seeing. I suggest you do it sooner than later, before humanity's bad habits render them unrecognizable.

I'm talking about the Amazon, Patagonia and the Atacama Desert.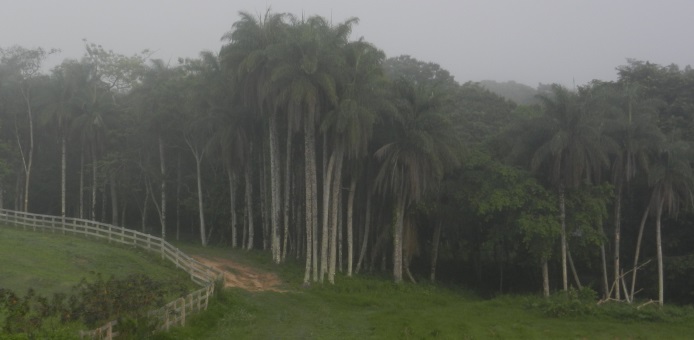 Well, actually, you don't have to rush to see the Atacama before it changes. Like the Sahara, vast stretches of its barren sands are uninhabitable. Human enterprise is not likely to ruin the Atacama because there is hardly anything there to ruin.

Come to think of it, Patagonia is probably safe for a couple more generations. Because it lies far from the rich countries of Asia, Europe and North America, relatively few of the world's international tourists visit its majestic mountain ranges and crystalline lakes each year.

About 90 percent of Patagonia is flat, arid sagebrush. The land can scarcely support the wandering herds of guanaco (a wild cousin of the llama) and Andean ostriches that call it home. A desperate change in the world economy would have to happen before industrialization and urban sprawl take root there.

Amazonia, on the other hand, is changing fast, very fast. Too fast for comfort, really. We are talking about a complex tropical ecosystem that harbors an astonishing variety of trees, birds, animals, fish and insects. The Amazon River Basin covers one-third of South America, roughly equal in size to the continental United States. Yet in a mere 50 years, nearly one-fifth of its jungles have been cleared and its human population has increased fourfold. Despite the fervent efforts of native tribal peoples and environmentalists, the pace of these changes is not likely to slow. You best get there as soon as you can.

The most memorable way to see the Amazon is from the deck of a riverboat. That's how we wanted to see it on the Epic, so we took an overnight bus from the Venezuela border to Manaus, the largest, busiest, steamiest city in the Brazilian state of Amazonas. [Editor's note: If somebody asks, you should know that Manaus is actually on the Rio Negro, a few miles upstream from where this river meets the Amazon. But don't worry, nobody ever asks.]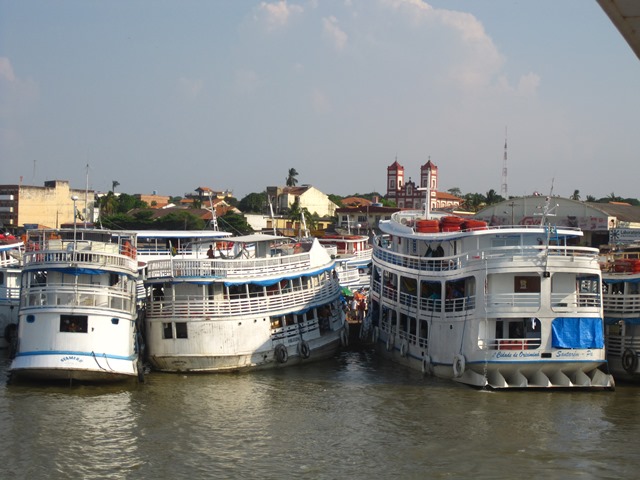 You should also know that, unless you want to take an airplane, riverboats are the only viable option to travel from Manaus to your next destination. Roads have yet to be built along the river, partly because of annual floods, mostly because traffic flows best on the Amazon itself (pun intended). Ocean-going ships can dock at Manaus, over 900 miles inland from the Atlantic. Vessels as large as 9,000 tons can continue upriver another 1,300 miles to Iquitos, Peru. Small wonder the Amazon River is one of South America's busiest freeways.


Did I say "small?" That's a word rarely used in a sentence about the Amazon. It is not the longest river in the world—the Nile barely edges it out in that category--but dwarfs contenders in every other category. The size of the Amazon is hard to fathom (another pun intended), but here are a few facts that might help put it into perspective.

- The Amazon contains more water than any other river on the planet, equal in volume to the next seven largest rivers combined.

- One-fifth of all the fresh water flowing into the world's oceans comes from the Amazon.

- Two of its tributary rivers are larger than the Mississippi.

- The distance from its source, a snow-fed stream in the Peruvian Andes, to its mouth at the Atlantic Ocean equals the distance from New York to Rome.

- At its widest points, the opposite shore cannot be seen by the naked eye.

- No bridge has ever been built across the Amazon.

When we got off the bus at the boat dock in Manaus, the first thing we did was to help Lindsey buy a hammock for our voyage. [Travel tip: Wait until the Manaus boat dock to buy a hammock. They come in all shapes and sizes and you are sure to find one that fits your particular contours. Also, they come with just the right length of rope to tether your hammock to the railings on the boat's sleeping deck. I had bought a cheap, lightweight hammock weeks before at an outdoor market in Nicaragua and envied Lindsey's choice.]

We enjoyed getting acquainted with Lindsey, whom Barbara and I first met when she joined the Epic in Bogotá. Sweet, patient, adaptable to heat, bugs and schedule changes, Lindsey made the best of traveling companions. I'm proud to say that, at this writing, we are still friends.

With hammocks and backpacks in tow, we took a skiff out to board our riverboat, which like every other vessel in its class was triple-decked, open-sided and painted white. [Travel tip: Be sure to memorize the name of your riverboat. You will never be able to pick it out from the lineup otherwise.]


My camera went missing somewhere between the boat dock and cast off. I don't like to think a fellow traveler snatched it, particularly because we were so intimately spaced on the sleeping deck. Depending on how many passengers are aboard, you will have between two feet and two inches of space between yourself and the perfect stranger next door. Just hope the stranger is indeed perfect.

It helps, too, if he or she does not snore. I do, obnoxiously, according to my doctor. I can be reasonably sure that, if the stranger next door stole my camera, I exacted sweet revenge every night.

Apart from close quarters, these are the memories that stick in our minds about sailing on the Amazon.

Engine trouble. This delayed our departure from Manaus for several hours and required three marine mechanics to sort out the problem. I confess that this created anxiety, as I imagined getting stranded for days out on the immense waterway. Thankfully it didn't happen.

The food. The ship's galley served three hot meals a day for $2 to $5 dollars a plate. Lunch and supper featured rice, beans, a bit of salad and fresh fish from the river. Breakfast plates were identical, except no fish. We washed down the food with assorted tropical fruit juices that I had never before tasted and whose names I can't remember. However, Ben can tell you. He was following a vegan diet at the time and knows all their names, origins and nutritional value.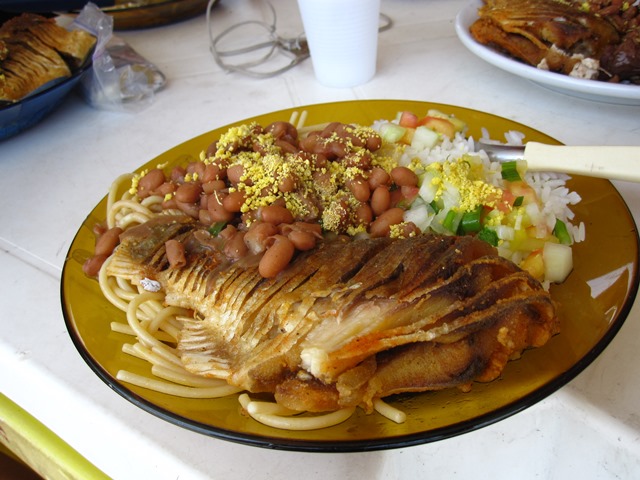 Cargo. Every so often, we stopped at riverside towns to offload cargo and exchange passengers. These towns depend on riverboats to supply them with life's necessities. Our boat trafficked in toilet paper, soda pop, onions, rice, bottled water and the most tantalizing watermelons you will ever see.

Mosquitoes. A striking recollection about these pests was their absence. Of course, when the boat docked at riverside towns the little critters immediately attacked. But cruising down the middle of the wide river, we neither saw, heard nor felt mosquitoes. They simply couldn't keep up. We slept soundly at night without applying smelly bug spray. Soundly, that is, if the stranger next door did not snore obnoxiously.

Sunset. The most indelible memory of all was the sunsets. Neither I nor Barbara nor the kids can recall much of what we did during the daytime. We must have read books, played cards and talked with fellow passengers. I think I did some pushups on the sun deck, but couldn't say for sure.

Ah, but every afternoon when that blazing red ball sank toward the horizon, surrounding itself with every hue of pink, purple and orange, we would stare in hushed amazement. It seemed the entire boat fell silent, except for the purr of the diesel engine. The last bit of the shiny red disc would disappear in a wink and leave us in the brief, equatorial dusk to contemplate for one last moment the immense surroundings of water, sky and tree line. Then night fell suddenly, thick and black, like a heavy blanket spread over the world.


While we're on the subject of the world, let's take a size quiz. (Answers supplied.)

What country of the world has the largest population of Hindus? India.

What country has the largest population of Muslims? Indonesia.

What country has the largest population of Protestant Christians? United States. [Fun fact: Communist China is predicted to soon overtake the U.S.A. in that category. No joke.]

What country has the largest population of Roman Catholics? Brazil.

What country has the largest population of Pentecostals? Brazil.

No joke. If you know anything about the many differences between these two branches of Christianity, you understand how remarkable it is that huge populations of each faith community coexist in a single country, even a country as big as Brazil.

Roman Catholicism arrived first, of course, transplanted from Portugal by European conquistadores in 1500. Pentecostalism would come four centuries later, brought by European immigrants to the U.S.A.

Their story is recounted in the intriguing book 100 Years of the Holy Spirit. In the first decade of the 20th century, as the Pentecostal movement was being birthed in the U.S., two young Swedes newly arrived from the old country experienced Spirit baptism. Later, Daniel Berg and Gunnar Vingren met at a Pentecostal conference in Chicago and became friends.

Vingren was saving money to enroll in the University of Chicago Divinity School. He later accepted a call to pastor a Swedish Baptist church in South Bend, Indiana. It was there at a Saturday evening service that one of his parishioners prophesied that God was calling Vingren to preach the Good News in "Para." Sometime later Berg visited South Bend and the same parishioner pronounced over him the same prophesy about "Para."

It was clear to Berg and Vingren that they must go to Para, but they had never heard of the place. So they went to the Chicago Public Library, consulted the World Atlas and discovered that Para was the name of a state in Northeast Brazil. They lost no time securing passage on a ship bound for Belem, the port city at the mouth of the Amazon River.

Berg got a full-time job in a steel mill. The two men lived off his wages so that Vingren could concentrate on planting a church. Their congregation began with 18 Brazilian members and grew quickly. Berg and Vingren learned that another of their Pentecostal friends from Chicago, Italian immigrant Luigi Franceson, had planted a church in Sao Paulo. They registered the new congregations with the government under the name "Assemblies of God."

A century later, Assembleia de Deus no Brasil has grown to 100 thousand congregations with 22.5 million members. Nearly half of all Brazil's Protestant Christians are members of an Assembly of God, making it the largest non-Roman Catholic church in Brazil and the largest Pentecostal denomination in the world. It is seven times larger than the Assemblies of God in the United States, which is one of the 10 largest Christian denominations in North America.

Modest beginnings, exceptional impact. Who could have imagined what was about to happen on that day when Berg and Vingren visited the Chicago Public Library? Nor would anyone have foreseen that, in addition to its many remarkable attributes, the Amazon would add this one: Birthplace of a Jesus Movement.

The only thing those two young Swedes did was to obey the voice of God. No plan, no budget, no outstanding qualifications. Just simple, radical obedience.

God did the rest.

After all, if He can turn a trickling stream in the Andes into the mighty Amazon, imagine what He can do with a few people who are willing to obey His voice.


Next time: Endless in Brazil