Endless in Brazil
If you plan to travel the length of Brazil as we did on the Epic, you need to know that it is the longest country in the world from north to south, equivalent to the distance from Alaska to Hawaii. And at its widest east-west point, Brazil is a bit broader than the continental U.S. Traveling overland can seem endless.


Here's the good news. Brazil is the only country in the world that has both the Equator and the Tropic of Capricorn running through it, which means you can go almost anywhere in the country at any time of year in shorts and flip flops.

Shorts and flip flops appear to be the national costume. Perhaps it is because of the perennial warm weather, perhaps because of Brazilians' laid-back approach to life or perhaps because 70 percent of the population lives near the coast and must be constantly prepared for a day at the beach. The phenomenon certainly warrants careful research.

Other aspects of Brazilian life deserve examination, as well. For instance, why has it outperformed every other nation on earth by winning five World Cups in futebol (the sport known as soccer in the U.S.)? Is it because Brazil's professional players only have one name, like Pelé, Ronaldinho or Neymar? Or do Brazil's players use only one name because they have won five World Cups?

Perhaps their prowess is due to their penchant for foot volley (futevolei in Portuguese), a sport invented on the beaches of Rio de Janeiro. As the name implies, futevolei players use only their feet to get the ball over the net and back. This fascinating technique allows them to play two of their favorite games at once: volleyball, which some consider the National Sport, and futebol, which many consider the National Religion.

These are but a few of many fascinating issues to explore. Brazil could absorb several lifetimes of observation and still keep its secrets. The most biodiverse country on the planet, it holds world records for the most species of plants, freshwater fish and mammals. New species of birds, bugs and reptiles are constantly being discovered in its vast jungles.


The Epic provided us time and access to experience many unique things about Brazil, but even then we barely scratched the surface.

The riverboat dropped us at Itaituba, a city on the banks of the Tapajos 150 miles from where this enormous river meets the Amazon. (If you are confused here, please see the previous blog, Amazonia.) Barbara and I had been asked to teach intensive classes in Counseling and Church History to Bible institute students there. Meanwhile, Ben, Molly and Lindsey, lucky ducks, spent the week helping with the mango harvest at Maloquinha.

The Hacienda Maloquinha is a special place. One thousand acres of cattle ranch/retreat center/riverside resort, it sits 11 miles out of town on a rutted dirt road. On weekends Maloquinha opens to the public and hundreds of city dwellers make the bone-jarring, half hour commute to bathe in the warm Tapajos, dine on fresh fare in the farm's restaurant and play futebol and volei amidst Maloquinha's huge mango trees.


It was November, when the trees are in full production and drop mangoes by the hundreds every day. The first item on the agenda each morning at Maloquinha was to don hard hats (to deflect falling mangoes) and collect the fruit in big canvas bags.

Ben, Molly and Lindsey collected mangoes and helped with farm chores, laundry and housekeeping. Ben fed the tambaqui in Maloquinha's fish ponds, which also held two or three large piraracú, the most feared fish in the Amazon. One weekend when Barbara and I visited the farm, Ben showed us why.

A six-foot long, 200-pound piraracú had settled lazily below the pond's feeding pier. The big fellow looked the very image of a docile gentle giant. Then Ben dropped a piece of fresh meat in the direction of its nose and Wham!

We didn't actually see what happened. The gigantic fish attacked too fast for the naked eye to follow and sucked in the prey with a blast like a shotgun. Within half a second, the fresh meat and the huge piraracú had disappeared beneath gentle ripples on the surface, leaving a pale-faced, drop-jawed visitor staring down in disbelief from the feeding pier.


This was but one experience that made our stay in Itaituba memorable. Another was reconnecting with Oreste and Marlene Greiner, a couple that I had met in Curitiba on my first visit to Brazil in 1974. All three of us were college students at that time. A year later, Oreste and Marlene graduated and moved to the Amazon to plant churches, an enterprise they still pursue at this writing.

When it was time for us to leave, the Greiners shared our itinerary with church planting colleagues who lived along our route. For a week, we traveled south on a line roughly parallel to Brazil's western border, through Novo Progreso, Sinop, Cuiaba and Campo Grande, ending up in Marechal Rondón. We covered most of the 1,700 miles in bus seats. The long days and longer nights left us groggy and craving showers, a hot meal and somewhere to stretch our cramped legs.

Invariably, we found a family awaiting us at the bus station. Mind you, these folks worked full-time jobs while planting churches, yet they still found time to take foreigners into their homes. They gave us beds, cooked for us and even did laundry. "Hospitality" took on a new meaning.

"Geography" took on a new meaning, as well. Midway through this southward trek we reached Cuiaba, Brazil's hottest city. West of it lies the Pantanal, the world's largest system of wetlands and floodplains. Researchers have discovered more plant and animal species here than in the Amazon itself, ranking the Pantanal as the world's most biodiverse ecosystem.

To the east of Cuiaba lies the Chapada dos Guimarães. A high tableland rising abruptly out of the savannah, the Chapada inspires awe at first sight. It also inspired the movie "The Lost World," a science fiction adventure featuring dinosaurs and other dangerous leviathans that explorers encounter atop the uncharted plateau.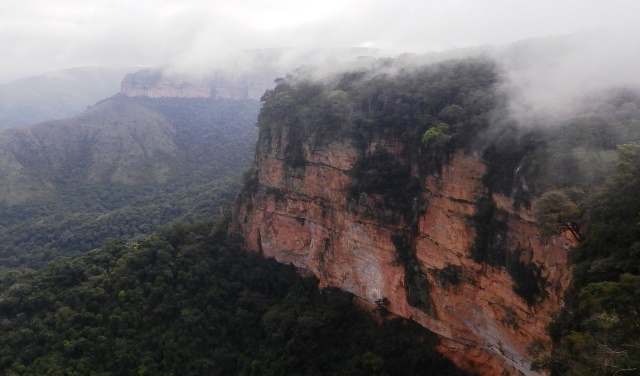 To date, no dinosaurs have been found on the Chapada. However, the plateau is high enough to block prevailing winds from reaching Cuiaba. Denied the cooling breezes, the city registers temperatures above 100 degrees Fahrenheit for much of the year, earning Cuiaba its unenviable reputation as the hottest city in the hottest country in the Americas.

The Chapada is noteworthy for yet another phenomenon. It sits on the exact geographical center of South America. When we discovered that we had reached this milestone, we asked Lindsey to snap a photo of us celebrating the achievement, in midair.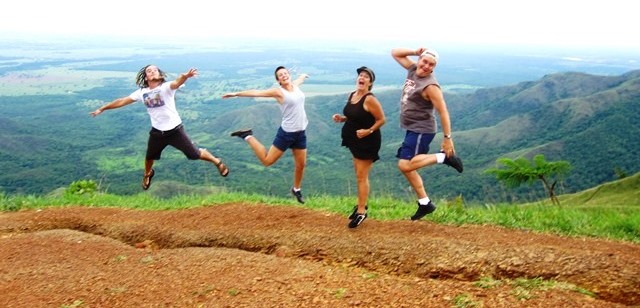 We were able to do all this courtesy of Fabio and Marli Cristiani, church planters in Cuiaba who housed us, fed us and even loaned us their car to explore the Chapada. As I said, hospitality took on a new meaning, and church planters are among the most hospitable folks you will ever meet.

Perhaps that is because church planting is best done as a team. For example, the Cristianis had moved to Cuiaba a few years prior to team up with Ivan and Normandi Mouro to plant a church in the city. The Mouros had moved to Cuiaba from Itaituba, where they had been part of a church planted by our friends, Oreste and Marlene Greiner.


That church has grown up from humble beginnings. Itaituba consisted of only four city blocks in 1975, the year the Greiners moved from Curitiba to Amazonia. The church began holding meetings at the busiest place in town: the wharf where riverboats unload passengers and freight.

Four years later, Edgar and Cilli Henke arrived in Itaituba. They only planned to stay a year in order to give the Greiners a breather, but the pressing needs of the frontier town and the opportunity to sow the gospel in virgin soil changed their minds. They decided to stay for life. The decision surprised no one who knew the Henkes and their passion for serving Jesus.

I had the privilege of meeting Edgar and Cilli in Curitiba, in 1974. They were directing the Bible training institute where Oreste and Marlene were studying. I was part of a team of American students that came to help build classrooms at the school. Edgar Henke, himself a builder by trade, supervised our work between his administrative duties as Director.

Mr. Henke came from a family of German immigrants who raised him to value hard work. Solidly built with coal black hair and a thick, matching mustache, he exuded the sort of demeanor that causes people to hush when he enters the room.

One day I was laying brick for a classroom wall. My buddy Will was working nearby. We were horsing around as college guys sometimes do when, without warning, Will grabbed me from behind and pinned my arms to my sides. He was a linebacker on the college football team so maybe his tackling instinct kicked in. Anyway, we struggled, I tripped on some brick trash and we both collapsed in a heap, taking down the newly laid brick wall with us.

We sat up in the swirling dust and stared at each other. We were toast. A careless act like this, committed on foreign soil, was certainly a deportable offense. But the only thing for it was to go to the Director, own up to our stupidity and take the medicine.

Edgar Henke was sitting behind his desk when we walked in and, through an interpreter, described the incident. He listened quietly, expressionless except for a raised eyebrow here and a fleeting smile there. We apologized profusely, pledged to cover all damages and swore to behave ourselves if he would just give us another chance and not kick us out of Brazil.

Mr. Henke sat thinking it over for a moment, a very long moment, it seemed to me.

"Thank you, boys, for coming in and telling me this," came back his reply through the interpreter. "I accept your apology. And don't worry, you need not pay anything."

Then he looked straight at us and added, "Remember, these things happen even in the best of families."

The knot in my stomach loosened. I managed a weak smile and a mumbled "thank you, Sir," and we left the office. I was so relieved that I hardly realized what had just happened.

What happened was this: Edgar Henke, being the wise and dignified man that he was, chastised us appropriately without destroying our dignity. Talk about class. That proved to be the only conversation I ever had with Mr. Henke, but I haven't forgotten it. That's what happens, you know, when you have a close encounter with a great man.

Edgar Henke's career in Itaituba demonstrated the truly great man he was. With Cilli at his side and the Greiners as coworkers, it did not take long for extraordinary things to happen.

To begin with, the team figured out that the property at the wharf was better suited for doing business than planting a church, so they leased it to shopkeepers and used the proceeds to move to one of the new neighborhoods springing up on the edge of town.

The place was thick with children, some of them from dysfunctional families, others with no family at all. So instead of a chapel, Henke designed and built the first Community Integrated Center for Minors, a safe place where kids could play, have a nutritious meal and get help with school work. The Center concept became the prototype for planting churches in Itaituba.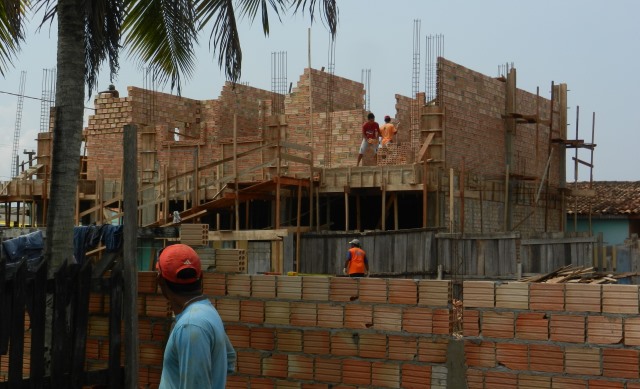 Henke encountered idle teenagers with no job skills so he opened an industrial shop to teach them furniture making and construction trades. When circumstances came together to acquire the Hacienda Maloquinha, Edgar set about teaching them agricultural and hospitality skills at the ranch.

In 1996, doctors installed a pacemaker in Edgar Henke and told him he should take it easy from now on and rest. His answer: "I will rest once I get to Heaven." He continued to help plant churches and build schools. In 2001, Henke oversaw construction of Bethel Clinic, a facility that provides medical services to low-income families.

When Edgar Henke died 26 years after arriving in Itaituba, the city had grown to 100 thousand residents. Fellow citizens paid their respects with one of the largest funeral processions in Itaituba's history. Police officers and firemen marched in dress uniform and the mayor presented Cilli Henke with an award honoring her husband's service to the community.

Of course, that is not the end of the story. A life well-lived serving Jesus has impact long after the servant's departure. Oreste and Marlene and their colleagues are still busy planting churches, now primarily along the Trans-Amazon Highway and in distant cities like Cuiaba. These congregations have collectively baptized several thousand new believers. Their numbers continue to grow.

I suspect that what started at the wharf in Itaituba in the 1970s is likely to keep changing lives and transforming communities in Brazil for years to come. As history shows, genuine Jesus movements are indeed endless.


Next time: Big water